Jollie Teaches Yoga to Teens with Cancer
The background on Sunshine Kids and their partnership with Jollie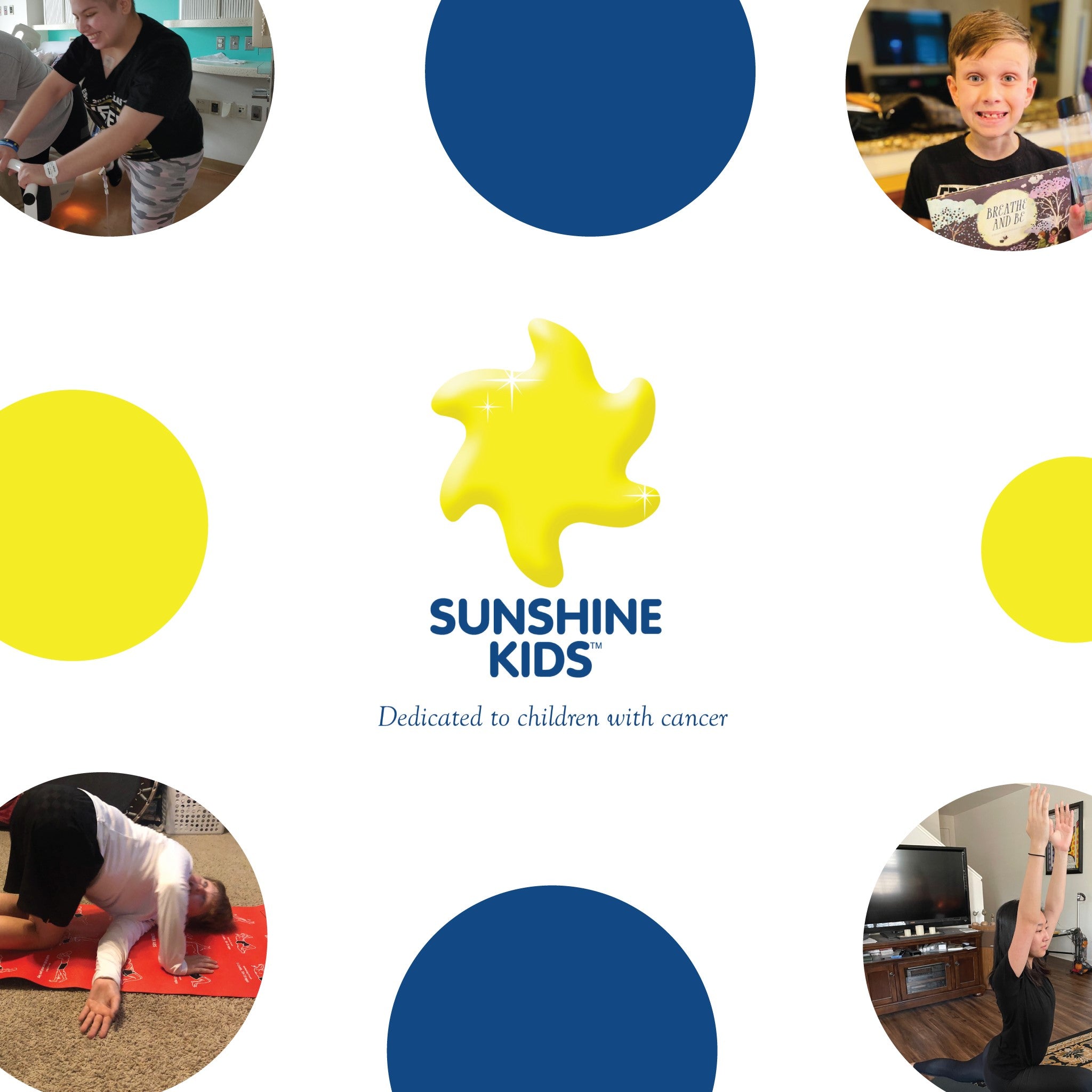 Spotlight on Sunshine Kids
On May 22, 2021, 20 teens joined Hilary and Elizabeth for a virtual yoga class hosted by Sunshine Kids. This class focused on alleviating stress, calming the mind and body and strengthening muscles.  Participants joined the class from their homes, the hospital room and one from the car!
The Background on Sunshine Kids

The Sunshine Kids Foundation was founded in 1982 by a volunteer at M.D. Anderson Children's Cancer Hospital, Rhoda Tomasco. Chemotherapy and other treatments were incredibly isolating and this group of kids that she volunteered with decided to band together to create what is now, The Sunshine Kids! The kids named themselves after the thing they longed for the most- sunshine. To this day, we continue to work with M.D. Anderson Children's Cancer Hospital and over 85 other different hospitals across the United States and Canada. Our mission is to add quality of life to children with cancer by providing them with exciting, positive group activities, so that they may once again do what kids are meant to do...have fun and celebrate life!
In 2020, the Sunshine Kids Foundation impacted over 3,000 pediatric oncology patients nationwide. The Sunshine Kids Foundation offers different programs and opportunities that serve children in all stages of their cancer journey. First, we host in-hospital opportunities including our Hospital Party Program. This program was expanded during 2020 to bring sunshine and fun to kids who are inside the hospital. The kits include a variety of crafts that are different themes each month along with a special lunch provided for the families as well. This year alone, we have created and distributed over 1,000 hospital party kits to hospitals nationwide.
In addition to this, we also host local and regional activities. These activities can be a variety of things including a VIP Meet & Greet with the Houston Astros or a day at the Schlitterbahn Waterpark in New Braunfels or Galveston. We have even hosted fun events partnering with businesses throughout the areas for special VIP dinners, opportunities and more!
Finally, we host National Trip opportunities for our teen oncology patients from hospitals all over the country. We travel to destinations like New York City, Chicago, Los Angeles, Orlando, and the Texas Hill Country to host our young cancer fighters for a week unlike any other! Police escorts, all you can eat dining, and special attractions just for these young teens to have the opportunity of a lifetime!
Throughout 2020 and into 2021, Sunshine Kids converted their entire programming to virtual opportunities. They never skipped a beat, picking up our programming at the start of April of 2020 with unbeatable Zoom events like continued meet and greets with the Houston Astros, dance classes with the Dallas Cowboy Cheerleaders, magic shows, bingo nights, and more! This actually extended the Foundation's reach even further to the oncology patients that are in-patient and in normal situations would not have had the opportunity to still participate in the events that had been scheduled.
Jollie Brings Yoga Therapy for Teens to Sunshine Kids
The Jollie team partnered with Sunshine Kids to bring their "when you do good, you feel good" belief to pediatric oncology patients who are part of Sunshine Kids Foundation.  Jollie wanted to give them the opportunity and tools they need to practice yoga anywhere, anytime, and in an adaptable way for any patients with special needs. This partnership has created life-changing opportunities the kids that will not only improve their well-being and help them battle childhood cancer but also add quality of life that will stay with them beyond treatment.
Health Benefits of Yoga and Teen Yoga Practice
Some of the generalized benefits of yoga for teens include their physical health, core strength, mental clarity, stress management, and more. Yoga practice usually includes breathing exercises and physical exercises under the guidance of a qualified yoga teacher. There are different types of yoga, so the physical exercise of a yoga session and its physical benefits can vary in terms of qualitative outcomes. A typical 30-minute yoga teen classes session will begin on a yoga mat with breathing practices and may vary between seated poses and more challenging poses. It's well known that the practice of yoga can have a strong connection with healthy physical activity and sustained benefits, which can in turn help reduce some barriers to treatment that might be absent without the practice of teen yoga.
The Study of Life, The Body, and Physical Health
The study of yoga's impact on the body in a mixed-methods pilot study indicates that not only can this form of physical exercise remove barriers to treatment but also enhance a connection to body awareness. Furthermore, it can help patients struggling with body image issues and provide a sense of calm in a safe environment. In a stressful period as a treatment regimen, the performance of gentle yoga for kids, meditation exercises, and the core principles of yoga can help with a focus on life tasks, and even help with pain management routines.
Guiding Performance and Calm to the Sunshine Kids
The Sunshine Kids Foundation participated in not just one, but two virtual classes with the Jollie team. In March of 2021, Jollie hosted a special Virtual Caregiver+Me Yoga Class for younger Sunshine Kids and their families to get involved in a fun interactive class. In May of 2021, they hosted another class with teens and the Jollie team provided a special Q&A session following the event and donated mats for each of the participants. The Sunshine Kids who have participated in these events have had a blast learning new yoga poses and growing in their strength, balance, knowledge of the yoga pose, and physical fitness each time!